Saturday, October 6th, 2012
The Fearless Love Playlist
I love Americana music. It's one of the things I picked up when I lived in Texas, where it's sometimes called Third Coast music (the Gulf Coast is the Third Coast, you see). It's a spicy amalgamation of all kinds of genres—roots rock, blues, Tejano, zydeco, alt country, and folk, depending on who's singing and who's counting.
When we lived in San Antonio, we were in the midst of what I think of as the Honky Tonk Belt, a cluster of towns and suburbs with places that played live music on the weekends, frequently outside under the stars. These are places like Floore's Country Store, Gruene Hall, and Luckenbach (yeah, it's a real town). I got to hear all kinds of wonderful musicians live and on CD, and it's one of the things I miss most about Texas.
Flash forward to the present. I live in Colorado now, but whenever I want a little taste of the Hill Country, I can go back to my very own town, Konigsburg. When I got ready to do Fearless Love, I decided I wanted to include the Hill Country music scene, this time from the point of view of a musician rather than an audience member. My heroine, MG Carmody, is an Americana musician who came back from Nashville with her confidence in tatters. This isn't exactly an unusual story—lots of Texas musicians, from Willie Nelson to Robert Earl Keen, have deserted Nashville when they realized their music just didn't fit the mold for Commercial Country. In MG's case, she wants to start singing again, but she needs to take it in baby steps. She plays gigs at a small club in the country outside Konigsburg, then slowly works her way up (with the help of her true love, Joe LeBlanc, a chef at a local restaurant). I got to describe several shows that MG plays, as well as her practice sessions in her own backyard (with chickens).
This, in turn, gave me a chance to include some of my favorite songs, and I have to admit it—I had a blast. I went through my iPod and picked out all those tunes and all those singers I love. And then I got to match the song to the mood (MG and Joe have a fight and she sings a whole collection of "you dog" songs). After the books was finished, I went back and listed all the songs I included, just for my own amusement. And since I love to watch performances on YouTube, I managed to run down performances for just about all of them (I haven't included the songs that I couldn't find anything for). So here it is, the Fearless Love play list. Enjoy!
Five Hundred Miles 
Bring It On Home To Me
Bye Bye Love
Me and Bobbie McGee
Silver-Tongued Devil
Something To Talk About
Mockingbird
Jambalaya
Help Me Make It Through the Night
Born To Run
Maybe, Maybe, Maybe
Texas Cooking
I'm Movin' On
Runaway Train
Fearless Love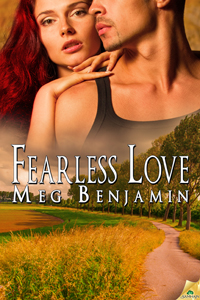 Fearless Love Blurb

Sweet music doesn't come without a few sour notes.

Konigsberg, Texas, Book 7.

MG Carmody never figured her musical dreams would crash against the reality of Nashville. Now the only thing she has going for her is her late grandfather's chicken farm, which comes with molting hens that won't lay, one irascible rooster, and a huge mortgage held by a ruthless opponent—her Great Aunt Nedda.

With fewer eggs to sell, MG needs extra money, fast. Even if it means carving out time for a job as a prep cook at The Rose—and resisting her attraction to its sexy head chef.

Joe LeBlanc has problems of his own. He's got a kitchen full of temperamental cooks—one of whom is a sneak thief—a demanding cooking competition to prepare for, and an attraction to MG that could easily boil over into something tasty. If he could figure out the cause of the shy beauty's lack of self confidence.

In Joe's arms, MG's heart begins to find its voice. But between kitchen thieves, performance anxiety, saucy saboteurs, greedy relatives, and one very pissed-off rooster, the chances of them ever making sweet music are looking slimmer by the day.

Warning: Contains hot kitchen sex, cool Americana music, foodie hysteria, and a whole lot of fowl play.

Buy Link: http://store.samhainpublishing.com/fearless-love-p-7011.html
Meg Benjamin is an award-winning author of contemporary romance. Her Konigsburg series for Samhain Publishing is set in the Texas Hill Country. Book #3, Be My Baby, won a 2011 EPIC Award for Contemporary Romance. Book #4, Long Time Gone, received the Romantic Times Reviewers' Choice Award for Indie Press Romance. Book #5, Brand New Me, won the Holt Medallion from Virginia Romance Writers and was nominated for Book Of the Year at Long and Short Reviews. Meg lives in Colorado with her DH and two rather large Maine coon kitties (well, partly Maine Coon anyway). Her Web site is http://www.MegBenjamin.com and her blog is http://megbenj1.wordpress.com/. You can follow her on Facebook, Pinterest, and Twitter. Meg loves to hear from readers—contact her at email hidden; JavaScript is required.