Thursday, August 20th, 2015
Hello Delilah Fans! I'm stepping in today with an excerpt from my work in progress, Caerwin and the Roman Dog. Set in 47 AD in an area of England now known as Shropshire, this is a story of conquest, defeat, and love. Watch for it on your bookstore shelves in a few months.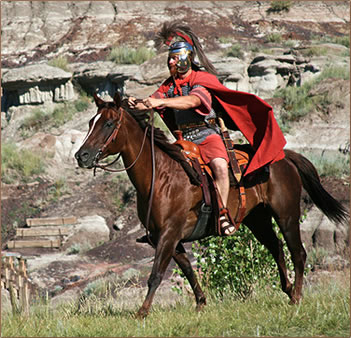 Horses appeared at the edge of the clearing. A white horse came first, a massive beast draped with red saddlecloth and gold ornamented breastplate and bearing a man of Roman rank. His red cloak swirled and the plume cresting his fearsome helmet bristled as he pulled his horse short. Two dark horses came up on either side, also mounted by cavalrymen cloaked in the hated Roman red and bearing weapons of war. They held their shields close on their bared thighs and carried short swords dripping with the blood of her kinsmen.
For a long frozen moment, Caerwin stood without moving as her eyes locked with the dark stare of the man on the white horse. As if the ground could swallow her. As if she could summon the powers of the ancient ones and rise to the sky by her own will to fly away.
As if he spoke to her in some magical language.
Motioning toward her, he shouted words she did not understand. Immediately one of the men at his side kicked his horse forward. He came directly toward her, galloping across the clearing.
She heard Virico's ghost whisper in her ear. Run, Sister. We are dead.
Caerwin dropped the bucket and ran. She leapt over rocks and thickets of dog violet, struggling for balance along the precipitous slope. Her feet flew over the ground as the sound of hoof beats came ever nearer. Plunging into thickets of young rowan and yellow-blooming broom too dense for a man on horseback, she ignored the gorse thorns tearing at her flesh and deftly wove her steps southward across the familiar landscape.
Blood pounded in her ears. She ran headlong, ignoring the lash of limbs and stones that bruised her feet. The ground dropped sharply. She gasped for air, dodging side to side to keep from tumbling headfirst off the incline. If she had any chance of escape, it would be in the dense woods and terrain too rough for horses.
She strained to hear hoof beats over her ragged breath and pounding heart. If these men had time to chase her, the fortress must have fallen. She risked a glance toward the hilltop as she broke free from the thicket of gorse. Smoke rose in thick black plumes.
Strong arms grasped her midsection and hauled her upward. In one unceremonious thrust that knocked the breath from her lungs, the Roman hauled her against his battle-stained thighs. He stank of gore and sweat.
"No!" she shouted, fighting against his grip as he swung the horse around. She cursed him, pounding his legs with her fists.
He pressed her down against the horse's withers and made no response to her insults. As they galloped back, she twisted and fought against his grip. His strange words issued in a torrent then a hard blow struck her head. Light flashed across her eyes. Then her eyes stared and saw nothing.
—–
Thanks for reading! Check my other books and my blog at www.lizzieashworth.com.
Denele Campbell
denele@windstream.net
My writing: www.denelecampbell.com
Friend me on Facebook: https://www.facebook.com/AuthorDeneleCampbell