News & Newsworthy @ DelilahDevlin.com

April's Invitation to Eden Titles!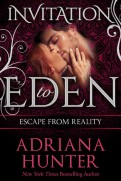 Escape From Reality by Adriana Hunter
When curvy single and struggling romance author Leila Connors receives a mysterious invitation to spend an all-expense paid week on a tropical island, it simply seems too good to be true. Who is responsible for sending the invitation? Why does the envelope smell of dominant male possession? And most importantly, why her? With a string of failed relationships and a career on the down-slide, Leila feels she has nothing to lose and agrees to the trip. But when she arrives at her destination, far away from everything she knows, she can't help but wonder if she made a mistake. That is until she comes face to face with the incredibly handsome Sebastian Phillips, a tortured stranger with dark secrets, and a man who will take without asking. With just one touch he awakens a desperate need within her. Before too long Leila finds herself caught up in a game of irresistible obsession, where truths are exposed, and the dangerously blurred line between fantasy and reality threaten to drive her to the point of no return.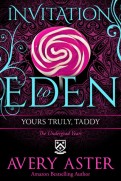 Yours Truly, Taddy by Avery Aster (The Undergrad Years, Book 2)
Jetting to Martinique for a modeling assignment with three of Europe's hottest magazine photographers—Gustave, Fabian, and Leon—should've been easy, breezy beautiful. Never did I expect to look up and see a hole in the ceiling of our plane that was bigger in size than my Birkin bag.
Shit! We're nose-diving toward Eden Island. I pictured how my New York Times obituary might read when I'm gone, "Taddy Brill, Manhattanite, dethroned descendant of the Austrian House of Brillford royalty, dies at age eighteen, penniless, unloved, and a virgin." I swear this crap only happens to me. Suddenly, Leon pulls me with Fabian and Gustave. Adrenaline racing through me, our bodies clung as one. We prepared to…crash.The Undergrad Years is a New Adult contemporary miniseries about first loves, independence, and everlasting friendships.
Reader warning: Contains mature content intended for readers 17 and up.
Interact with Avery while reading this story on Instagram and Twitter @AveryAster using the hashtags #UndergradYears #NewAdult. Swag and reader contests can be found on Avery's blog at: AveryAster.com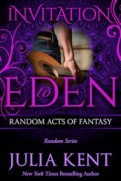 Random Acts of Fantasy by Julia Kent (The Random Series, Book 3)
You ever really think that you'll win the lottery? Meet Mr. Right? How about two Mr. Rights? Somehow the universe is handing me everything I want, and I don't like it. Not one little bit. Because just when you get all your dreams handed to you on a silver platter, that's when an airplane dumps its sewage on your house. Or your mama's diabetes takes a bad turn. Or your mobile phone gets stuck in your hoohaw.(What? It happens…) Boring old average me got everything I wanted already, moving from small-town Ohio to big-city Boston to follow my heart. So when the fancy invitation offering me a pile of money to come with the band, Random Acts of Crazy, to perform on an island resort and be their manager arrived, I thought it was a cosmic joke. Enough money to help my mama get what she needed, five days in sunny paradise, and a shot at greatness for the band? Unreal. One big shoe was waiting to drop. On my head. Just like no one really ever finds a naked man wearing only a guitar standing by the side of the road hitchhiking and ends up falling in love with him and his friend and moving halfway across the country for true love, no one gets an invitation to come to what turns out to be a resort where people make what me and Joe and Trevor do together look like a chaste peck on the cheek. But… Well. I guess these things do happen.
To me.

Latest News
11/21/13—Uniform Desires hit the USA Today Bestsellers List!
09/03/13—High Octane Heroes is a Top Pick at Night Owl Reviews!
09/01/13—High Octane Heroes is Erotica-UK's Book of the Month!
07/10/13 — Smokin' Hot Firemen is a Top Pick at Night Owl Reviews!
06/25/13 — Lost Souls is a Top Pick at Under the Covers!
02/24/13 — Shattered Souls is a Top Pick at Under the Covers!
01/29/13 — Shattered Souls is a Top Pick at Night Owl Reviews!
12/24/12 — Cowboy Lust received a CAPA nomination for Best Anthology by The Romance Studio!
11/19/12 — A Perfect Trifecta earned 5 Stars and Top Pick from Night Owl Reviews!
09/30/12 — Laying Down the Law is a Night Owl Reviews Top Pick!
06/14/12 — RT BOOKReviews calls Delilah's New Icelandic Chronicles a "seriously stellar" sci-fi romance series!