Coming Soon
Dear Readers: I do my best to keep this list updated with the latest release information. However, if you're looking for a particular story and don't see it, it may still be in the "thinking about it" stage. Check back for updates and subscribe to my newsletter or "like" my Facebook fan page for more news about my works-in-progress. Thanks so much for your interest and support! ~DD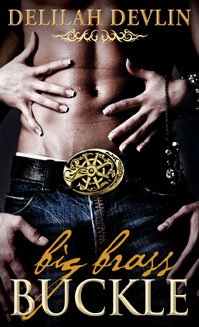 BIG BRASS BUCKLE
Genre: Western; Contemporary
Format: eBook
On Sale: September 23, 2014
Caught in a sudden thunderstorm on a lonely stretch of Texas highway, I pull into a dingy little diner to wait out the rain, never dreaming the cowboy of my dreams would follow me inside. Now I have a couple of choices, play it coy and safe? Or go for the big brass buckle…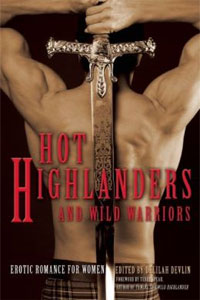 HOT HIGHLANDERS AND WILD WARRIORS
Edited by Delilah Devlin
Cleis Press
ISBN-10: 1940550025
ISBN-13: 9781940550022
Format: Trade Paperback
On Sale: October 14, 2014
Men devoting themselves to their true love through the art of courtly love is the ultimate in romance. Hot Highlanders and Wild Warriors is filled with wild knights and Scottish warriors whose courage on the battlefield is outmatched only by their ardor for their ladyloves! Readers will unleash their fantasies of olden days where men wearing heavy armor or thick tartans sent a spirited young maiden's (or lonely widow's) heart fluttering. These bravehearts were prized for their physical strength and men were judged for their fierce loyalty and unshakeable honor. Crusaders, highlanders, Normans and Saxons, tournament fighters, vikings, and hunky Huns astride stallions in search of adventure and love all populate the pages of this steamy read.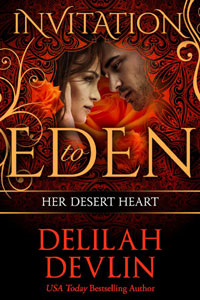 HER DESERT HEART
Format: Ebook
On Sale: November 18, 2014
Aislinn Dupree always prided herself on living in the present, free of her family's dark predilections for magic. However, after losing her partner and lover in a shootout, Aislin is tormented by her memories of the past and the day she lost Marc LeBrun. Her nights are haunted by vividly erotic dreams of them together, and of that painful day her life changed forever, subtle changes occurring each time she dreams, but which never change the painful outcome.
At her darkest hour, she's gifted with a decadent island getaway she hopes will help her shed her sorrow. Instead, she meets a man, so like Marc he makes her ache for what she once had. With her waking hours consumed by him and her nights spent roaming her dreams in search of Marc, she begins to lose herself, to dream of another reality where dreams do come true.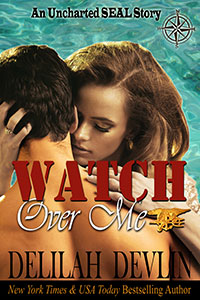 WATCH OVER ME
Series: Uncharted SEALs, Book 1
On Sale (Box Set): July 22, 2014
On Sale (Single Release): November 2014
Deke Warrick's unsanctioned detail is to keep tabs on a congressman's niece while she vacations in the Caribbean. He's determined to keep his distance from the beautiful Nicky Martir, but finds his limits tested when Nicky sets out to seduce him.
What seemed like a simple mission becomes deliciously complicated—and then dangerous, when she's snatched from their hotel room.
Note: WATCH OVER ME has previously been published as part of the Hot Alpha SEALs box set.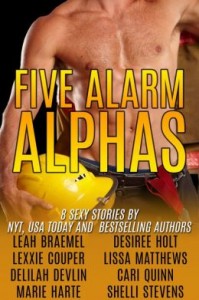 FIVE ALARM ALPHAS: Eight Sexy All New Romances
Genre: Contemporary
Format: eBook
On Sale: November 7, 2014
Men Hotter Than Fire!!!
Eight Scorching HOT Brand New Stories
"Feeding the Flames" by Leah Breamel: When chef Tabatha Morgan returns to Barnett Springs, her burning crush on firefighter Zac Buchanan flares back to life. Trouble is, Zac has made a promise to keep his distance from Tabby, so Zac's best friend and fellow firefighter Quinn decides to help feed the flames of their mutual desire.
"Combustible" by Lexxie Couper: Arson investigator, Desmond Russell is the best in Australia. Cool, calm and collected, nothing ruffles him. Until he meets Outback fire brigade captain, Jess Montgomery, a woman who ignites all his sexual desires. The initial spark will engulf them both…but will their hearts survive the inferno?
"Wet Down" by Delilah Devlin: Out with the old, in with the new…Or so Sherry Thacker thinks. Problem is, her ex is always on her mind and right across the street. When a "Wet Down" ceremony to retire an old fire truck is planned by the city council she has to put aside her hurt and anger and do her job. Blake Thacker wants his wife back—in every way and he'll use whatever means necessary to win her back. Sex is always best served WET.
"Two to Spark" by Marie Harte: When a psychic predicts that a faulty toaster, a black cat, and the wrong address will bring Cooper together with Ms. Right, he shrugs off the notion as crazy. But before long, fate has something else in store for the sexy firefighter when a spark of attraction ignites into true love.
"Controlled Burn" by Desiree Holt: Montana Wade was home after writing off the past ten years of her life, but she needed one more night of courage before she faced her family. Boone Crider, hotshot firefighter, was burned out form the rash of malicious fires. They thought one night as strangers would cure them both, but the fire they started between them soon became a barely controlled burn.
"Up In Smoke" by Lissa Matthews: Half-brothers, Josh and Jay, share everything from a house, to a love of curvy, older women. So when their dream woman accidentally sets her kitchen on fire, they ride to her rescue, sirens blaring, promising to kindle flames that may never be extinguished.
"Rekindled" by Cari Quinn: Some blazes refuse to be contained. It's been months since ex-firefighter Katie Kemp has spoken to her former lover and squad mate, Dash Carlton. But when a late night drive down memory lane leads her to a small fire at Dash's house, she realizes she's not willing to turn her back on the hottest flame of her life.
"Into the Fire" by Shelli Stevens: Shannon has always prided herself on holding her own in the male dominated field of firefighting. She likes to be in control. Until she strikes a bargain with a sexy man from her past who makes her give it all up in the bedroom.
While we want as many people to enjoy this collection of original novellas as possible, it is intended for mature readers, 18 years of age and older.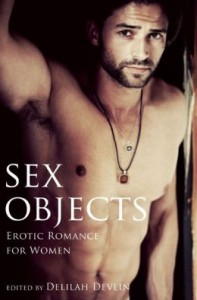 SEX OBJECTS: Erotic Romance for Women
Edited by Delilah Devlin
Tempted Romance
ISBN-10: 1940550165
ISBN-13: 9781940550169
Format: Trade Paperback
On Sale: August 11, 2015
High powered, high ranking…and in high heels.
The term sex object brings to mind a curvaceous starlet on a casting couch or an iconic, bee-stung-lipped beauty being pursued by a powerful, capable man. In Sex Objects, Devlin turns that concept upside down by allowing the woman to objectify a handsome, sensual man, using the concepts of role reversal and power play, but from a female perspective, to create something evocative and fun for the feminine, romance-reader.
A record executive plays hardball with her latest star in "Hush." In "Taste Test," a food critic is seduced with a gastronomic feast by a master chef. "Dark Circus" enchants with a story about a circus owner and a young accountant exploring a D/s relationship. A celebutante and her bodyguard get "Slap Happy." In Devlin's own "Butled," a famous writer succumbs to the tender manipulations of her butler. Lush settings and creative cliche-busting will delight readers eager to embrace the passionate and surprising couplings.
These women are masters of their own domain, in charge and proud—capable of using sex for pleasure's sake – but ultimately succumbing to the pull of desire and love created by the "objects" of their desire.