Coming Soon
Dear Readers: I do my best to keep this list updated with the latest release information. However, if you're looking for a particular story and don't see it, it may still be in the "thinking about it" stage. Check back for updates and subscribe to my newsletter or "like" my Facebook fan page for more news about my works-in-progress. Thanks so much for your interest and support! ~DD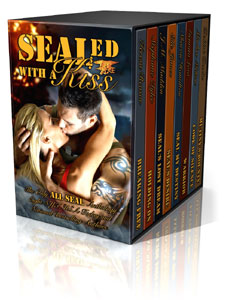 SEALed with a Kiss
includes Delilah's MUTINY'S BOUNTY
Genre: Contemporary
eISBN: TBA
Format: eBook
On Sale: February 10, 2014
Interested only in experiencing an adrenaline-packed adventure first-hand to give her credo when she books her clients' adventure vacations, Lace McElhannon finds more excitement than she can handle when she meets and falls into bed with ex-SEAL Dex Haygood. Fresh from protecting transport ships from Somali pirates, Dex figures his latest job will be a cakewalk, until he finds himself in deep water, swimming with sharks and trying to protect Lace when the yacht they're sailing on is taken.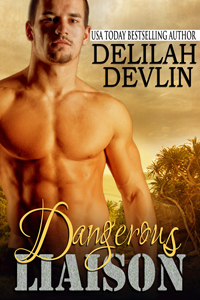 DANGEROUS LIAISON
Format: eBook
On Sale: February 11, 2014
A pampered travel agent, roughing it at an anti-terrorist training school, escapes through the jungle with an undercover DEA agent when a drug lord mistakes her for a rival's daughter.
After surviving a week of anti-terrorist training at a school deep in a Central American jungle learning evasive driving techniques she's sure will help her negotiate Chicago's rush hour traffic, Maya Cordoba is ready to kick off the mud from her designer boots and find a Starbucks—or the closest cantina serving cosmopolitans—after she hijacks her sexy driving instructor. Instead, she finds herself staring down the barrel of an AK-47 (which she recognizes from her weapons familiarization class, thank you very much!), and being ordered in incomprehensible Spanish into a SUV. She's being kidnapped! When she figures out she's been mistaken for the daughter of a rival drug lord, it's too late. If they learn she's not who they think she is—she's dead.
Rescue comes from ex-marine and mercenary/now instructor, Angel Rickman, who just so happens to be among the kidnappers. He says he's really undercover DEA and he'll take her out, but she has to do everything he tells her to, no balking. Together, they make a mad dash through the jungle, borrowing a cocaine-laden boat, with the drug cartel's army on their tails every step of the way.
Note: This story has been previously published within the Uniform Desires box set.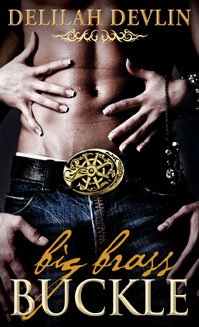 BIG BRASS BUCKLE
Genre: Western; Contemporary;
Format: eBook
On Sale: February 18, 2014
Caught in a sudden thunderstorm on a lonely stretch of Texas highway, I pull into a dingy little diner to wait out the rain, never dreaming the cowboy of my dreams would follow me inside. Now I have a couple of choices, play it coy and safe? Or go for the big brass buckle…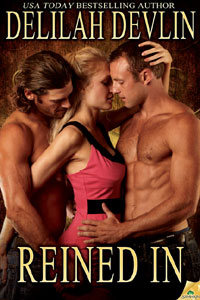 REINED IN
Samhain Publishing
Series: Lone Star Lovers, Book 7
Genre: Contemporary Western
eISBN: 978-1-61922-226-7
Format: eBook
On Sale: February 25, 2014
Who says a cowgirl can't have it all?
Stormy is a rancher's daughter through and through, and although she went away to college, her soul is firmly rooted in home ground—and the cowboys she grew up tormenting. When she hears her father might be selling the ranch, she packs her bags and high tails it for home, terrified she might never get another chance to lasso the heart of one of her cowboys before the hands scatter to the four winds.
For Cam and Joe, foreman and wrangler on the ranch, Stormy was a pain in the seat of their Wranglers. But when she roars back onto the ranch, the spoiled brat they remember emerges from the cloud of dust in skin-tight jeans and spike heels and all grown up.
It only takes a hot second to figure out she's hell-bent on seduction. But if she thinks they're going to make it easy for her to pick which cowboy she wants most, she's sadly mistaken. And who says she has to choose one?
Warnings: Contains cowboy-style spanking, flogging, and hog-tying. And a cowgirl who loves every minute of it.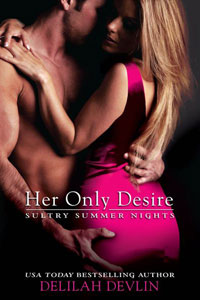 HER ONLY DESIRE
Grand Central Publishing
Series: Sultry Summer Nights, Book 1
ISBN-10: 1455546496
ISBN-13: 9781455546497
Format: Trade Paperback
On Sale: May 6, 2014
For fans of Sylvia Day and E. L. James, comes awarding-winning author Delilah Devilin's first book in her sensual eroitic romance Sultry Summer Nights series.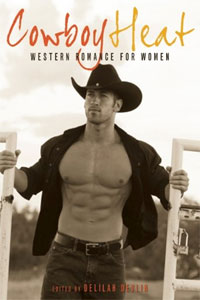 COWBOY HEAT
including Delilah's "One Track Cowboy"
Edited by Delilah Devlin
Cleis Press
ISBN-10: 1627780335
ISBN-13: 978-1627780339
On Sale: June 10, 2014
They may ride off into the sunset, but cowboys never go out of style. These manly men embody the fiercely independent, earthy alpha male and hero who isn't afraid to show the gentle, nurturing side of his complex nature when faced with a woman in need. Even when he's coated with dust from riding behind a herd of cattle or up to his knees in mud freeing a calf from a wallow, this stud still generates a lot of Cowboy Heat.
Delilah Devlin's Cowboy Lust was a sensation, hitting the top ten of romance books and generating a river of praise. Award-winning Devlin is back on the ranch with stories of rugged romantics, rough riders, and rope wranglers sure to satisfy any reader who craves the idea of that gruff, romantic hero, a man of few words but many moves. Cowboy Heat sits tall in the saddle, winning hearts and spurring readers to new heights of happiness.
HIS EVERY FANTASY
Grand Central Publishing
Series: Sultry Summer Nights, Book 2
ISBN-10: 1455584312
ISBN-13: 9781455584314
eISBN: 9781455528363
Format: Trade Paperback
On Sale: September 2, 2014
For fans of Sylvia Day and E. L. James, comes awarding-winning author Delilah Devilin's second book in her sensual eroitic romance Sultry Summer Nights series.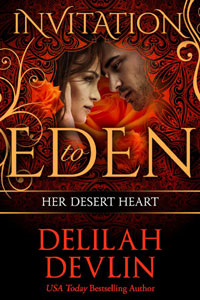 HER DESERT HEART
Format: Ebook
On Sale: October 2014
Aislinn Dupree always prided herself on living in the present, free of her family's dark predilections for magic. However, after losing her partner and lover in a shootout, Aislin is tormented by her memories of the past and the day she lost Marc LeBrun. Her nights are haunted by vividly erotic dreams of them together, and of that painful day her life changed forever, subtle changes occurring each time she dreams, but which never change the painful outcome.
At her darkest hour, she's gifted with a decadent island getaway she hopes will help her shed her sorrow. Instead, she meets a man, so like Marc he makes her ache for what she once had. With her waking hours consumed by him and her nights spent roaming her dreams in search of Marc, she begins to lose herself, to dream of another reality where dreams do come true.