Coming Soon
Dear Readers: I do my best to keep this list updated with the latest release information. However, if you're looking for a particular story and don't see it, it may still be in the "thinking about it" stage. Check back for updates and subscribe to my newsletter or "like" my Facebook fan page for more news about my works-in-progress. Thanks so much for your interest and support! ~DD


PLAYING THE FIELD
March 25, 2016

STEPBROTHERS STEPPING
OUT: WITH HIS TEAM
March 29, 2016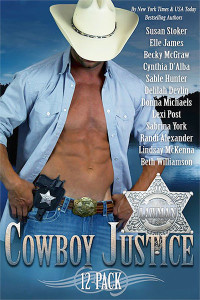 COWBOY JUSTICE
including CAIN'S LAW by Delilah Devlin
Genre: Contemporary Western
On Sale: April 5, 2016
Get your TWELVE Cowboy Lawmen who are so hot it's criminal. The COWBOY JUSTICE 12-Pack includes fresh novellas by twelve New York Times and USA Today Bestselling Authors!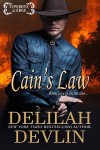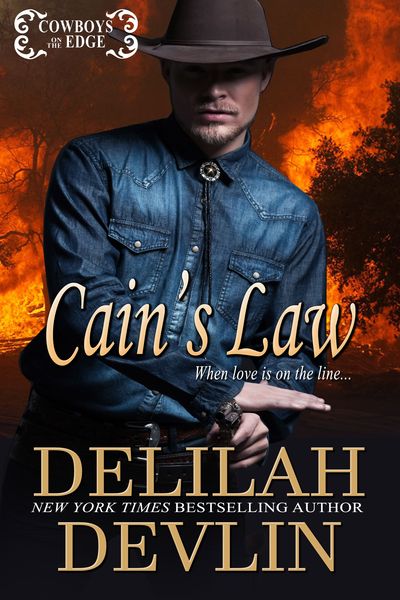 CAIN'S LAW by Delilah Devlin
Lawman, Cain Whitfield, discovers the shy brunette he's been flirting with is a former mob boss's girlfriend when her cabin goes up in flames.
Also included:
JUSTICE FOR LAINE by Susan Stoker
What began as a favor turns out to be fate when Laine meets sexy Texas Ranger Wes and falls for him.
JUSTICE BURNING by Elle James
Hard-nosed sheriff's deputy, Nash Grayson, places his family and hometown in danger when he rescues, Phoebe Sinclair, Dallas debutante and desperate runaway bride with a secret hiding in the trunk of her stolen car
LAYING DOWN THE LAW by Becky McGraw
Doctor returns to hometown when mother takes a fall and falls harder for new town Sheriff…her first love.
TEXAS JUSTICE by Cynthia D'Alba
First-term Sheriff is torn between duty and love when sexy Chief of Surgery is accused of medical malpractice and homicide.
TEXAS LONE STAR by Sable Hunter
An all-business Texas Ranger falls hard for an irresistible lady rancher he rescues from dangerous poachers.
COWBOY LAWE by Donna Michaels
More than bullets fly when a former SEAL protects a sexy witness who's actually an undercover agent secretly assigned to protect the stubborn SEAL.
COWBOY'S BEST SHOT by Lexi Post
A cowboy veteran who's lost so much. A bartender who never had it to begin with. Is this their best shot?
PROTECT AND SERVE by Sabrina York
He's vowed to avoid his high school crush, but his duty demands he protect her from a growing menace.
BADGE AND A SADDLE by Randi Alexander
Detective Rex Tarrow is sworn to protect Astrologist Dr. Mina Cooper, but will she get them both killed?
BLIND SIDED by Lindsay McKenna
Dark family secrets stand between the sheriff and the woman he loves from afar. Can he expose the treachery? Win her hand?
LAZARUS by Beth Williamson
Being a Graham isn't easy and it's about to get a lot harder for one stubborn lawman and the woman who still owns his heart.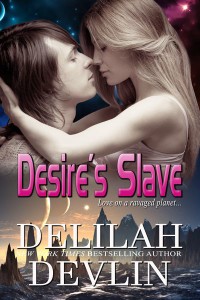 DESIRE'S SLAVE
Planet Desire, Book 2
Genre: Sci-Fi/Future
On Sale: April 12, 2016
After a fellow convict is murdered while she's guarding the maximum-security cellblock, ex-con Calandra Jones escapes the ship of the pirates who liberated the convicts, determined to make it on her own. Just as she's attempting to arrange passage on another ship headed for a mining colony, she's abducted by a handsome slave trader bent on offering her for sale at a potentate's auction.
Drago Chavez doesn't understand Calandra's opposition to his plan. As a concubine or wife to a powerful man, she would be pampered and influential. No woman he's ever placed has complained about being sold into the arms of a caring owner. Besides, his acquisition of the rebellious beauty is his entrée into a lucrative and exclusive market.
Calandra considers Drago's goal nothing short of sexual slavery and vows to seduce the trader into changing his mind about offering her for sale. A sensual storm erupts during their desert odyssey that culminates when Calandra is sold, and Drago must decide whether he trusts their love enough to launch a rescue.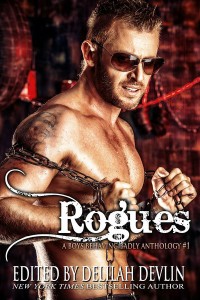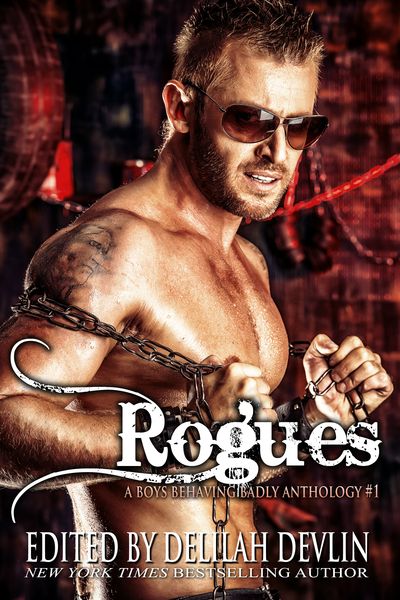 ROGUES
(A Boys Behaving Badly Anthology Book 1)
Twisted Page Inc
On Sale: May 17, 2016
Rogues! Even the word conjures a special sort of hero—a playful bad boywith a heart of gold—at least when it comes to his lady love. This volume is filled with the Jack Sparrows of old—pirates sailing the high seas, Regency-era highway men, modern day jewel thieves, like Cary Grant in To Catch a Thief—men doing bad things, bending or breaking the law, but in a very sexy way. With thirteen stories sure to satisfy the reader who craves that ultimate bad boy, prepare to have your heart stolen!
HER HEART'S TOMB by Jennifer Kacey
OPALS by Axa Lee
THE HIGHWAYMAN'S TREASURE by Emma Jay
SWINDLED by Megan Mitcham
PLUNDER by Delilah Night
THE HEAT by Mia Hopkins
THE HIGHWAYMAN CAME RIDING by Erzabet Bishop
QUEEN HIGH by Cela Winter
LADY OF THE HOUSE by T.G. Haynes
BILLIONAIRE AND THE JEWEL THIEF by Elle James
AN EYE FOR LOVE by Cynthia Young
ROGUISHLY HANDSOME AND OTHER SUPERHERO
PROBLEMS by Tray Ellis
GLASS SLIPPERS, HARDLY WORN by Bibi Rizer
ROGUE'S HEART by Delilah Devlin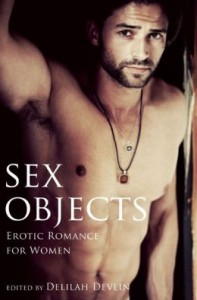 SEX OBJECTS: Erotic Romance for Women
including Delilah's "Butled"
Edited by Delilah Devlin
Tempted Romance
ISBN-10: 1940550165
ISBN-13: 9781940550169
Format: Trade Paperback & Ebook
On Sale: July 12, 2016
High powered, high ranking…and in high heels.
The term sex object brings to mind a curvaceous starlet on a casting couch or an iconic, bee-stung-lipped beauty being pursued by a powerful, capable man. In Sex Objects, Devlin turns that concept upside down by allowing the woman to objectify a handsome, sensual man, using the concepts of role reversal and power play, but from a female perspective, to create something evocative and fun for the feminine, romance-reader.
A record executive plays hardball with her latest star in "Hush." In "Taste Test," a food critic is seduced with a gastronomic feast by a master chef. "Dark Circus" enchants with a story about a circus owner and a young accountant exploring a D/s relationship. A celebutante and her bodyguard get "Slap Happy." In Devlin's own "Butled," a famous writer succumbs to the tender manipulations of her butler. Lush settings and creative cliche-busting will delight readers eager to embrace the passionate and surprising couplings.
These women are masters of their own domain, in charge and proud—capable of using sex for pleasure's sake – but ultimately succumbing to the pull of desire and love created by the "objects" of their desire.