Coming Soon
Dear Readers: I do my best to keep this list updated with the latest release information. However, if you're looking for a particular story and don't see it, it may still be in the "thinking about it" stage. Check back for updates and subscribe to my newsletter or "like" my Facebook fan page for more news about my works-in-progress. Thanks so much for your interest and support! ~DD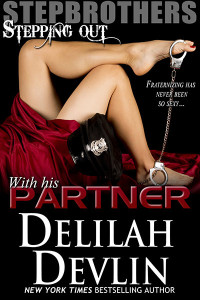 WITH HIS PARTNER
Series: Stepbrothers Stepping Out, Book 1
Genre: Contemporary; BDSM; Ménage M/F/M
Format: eBook
On Sale: July 16, 2015
Fraternizing has never been this sexy!
Jenny has an itch only her stepbrother Matt and his sexy policeman partner can scratch. So the little vixen teases them, only to have the two men return the favor twice-fold!
Note: If you love sexy m/f/m menage stories and aren't put off by a little BDSM and anal play, this story might be for you! This original 6600-word short story may be short in length, but it's not short in passion!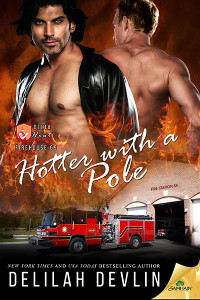 HOTTER WITH A POLE
Publisher: Samhain
Series: Firehouse 69, Book 2
Genre: M/M, Contemporary; BDSM
Format: eBook
On Sale: August 11, 2015
When your heart is stuck in the wrong gear, a quick fix isn't going to cut it.
When Noah buys a classic '68 Camaro from a fellow firefighter's widow, he hopes it will ease some of the grief crushing his heart. But the grinding noise under the car's hood sends him straight to a mechanic. Something about the burly, imposing Hoyt sparks Noah's interest, and it's not just Hoyt's ice-blue eyes and bad-boy biker looks. It's the mutual interest they have—Club LaForge.
After losing his partner to cancer a year ago, Hoyt never thought he'd feel the same kind of rush with another man. But his reaction to Noah throbs deep in his body like the rumble of his Harley.
LaForge seems like the perfect place to meet and work off some sorrow, to feel alive again. But the flood of desire quickly gets hot enough to melt their emotional barriers into unexpected connections.
Connections Hoyt isn't sure he's ready for…especially since history has a scary way of repeating itself.
Product Warnings
Warning: Get your motor running for a Harley-riding hunk of muscle who doesn't give a damn about the rules of being a Dom, and a firefighter who can take the heat. Buy a case of your favorite coolant. You're gonna need it.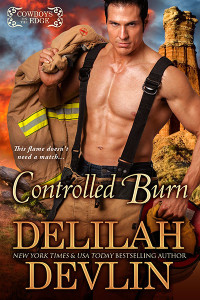 CONTROLLED BURN
Series: Cowboys on the Edge, Book 1
Genre: Contemporay
Format: eBook
On Sale: September 2015
This flame doesn't need a match…
One high school prank gone wrong shouldn't define the rest of Carly Lohan's life. But setting fire to Caldera Canyon isn't something townsfolk will ever forget. As the last part of her final act of restitution, she's among the group of volunteers assigned to keep a prescribed burn of underbrush and grass from "running over the rim" into the ranches ringing the park.
Local rancher and volunteer firefighter Jeremiah McCord doesn't trust the reformed firebug anywhere near the canyon's controlled burn. Determined to keep her on a short rein, he's everywhere she is, watching her. His distrust and determination sparks a plan for some sexy revenge—one that will get them both too close to the flames.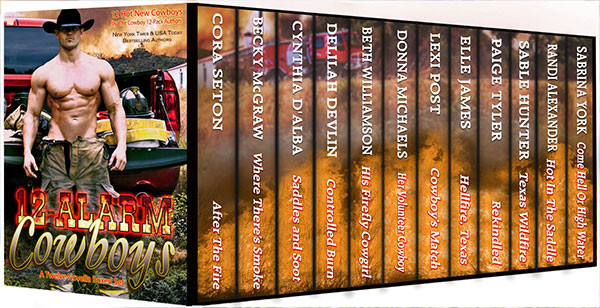 CONTROLLED BURN is also part of the 12 Alarm Cowboys anthology.
Format: eBook
On Sale: August 11, 2015
AFTER THE FIRE by Cora Seton
When a series of fires keeps bringing him to her door, a firefighter must uncover his ex-girlfriend's secret or risk losing her forever.
WHERE THERE'S SMOKE (A Cowboy Way Novella) by Becky McGraw
Cowboy Austin McBride follows a herd to a new town, but firefighting is his passion, so he applies at a local station. Standing between him and the job is a blonde bombshell who thinks she's a shoe-in.
SADDLES AND SOOT by Cynthia D'Alba
Rancher and volunteer firefighter extinguishes a grass fire accidentally started by the town's sexy temporary veterinarian but there's something about her that ignites a fire inside of him.
CONTROLLED BURN (Cowboys on the Edge, Book One) by Delilah Devlin
Rancher and volunteer firefighter assigns himself to watch a reformed firebug during a controlled burn but she lights the fire inside him instead of the dead grass around them.
HIS FIREFLY COWGIRL by Beth Williamson
When an arson investigator returns to her hometown she clashes with the firefighter cowboy who broke her heart. Embers turn to sparks between a cowboy and his firefly cowgirl.
HER VOLUNTEER COWBOY (Book 6: Harland County) by Donna Michaels
Sparks reignite when one-nighters reunite. Can the firefighter/Guardsman convince the reforming bad girl she's worth fighting for, or will she leave before he finds the courage to volunteer his heart?
COWBOY'S MATCH by Lexi Post
When a cowboy firefighter works a fire at a nudist resort, he's sure his ex-girlfriend, the bookkeeper, is to blame. But as he investigates her, his gut tells him he's going to get burned.
HELLFIRE, TEXAS by Elle James
A Cowboy-Volunteer Firefighter helps a runaway city girl put out a car fire only to find himself embroiled in a hot little mess of ex-boyfriend persuasion.
REKINDLED (Dallas Fire & Rescue, Book One) by Paige Tyler
A hunky firefighter rescues his best friend's sexy sister from a hotel fire set by her psychotic ex-boyfriend who'd rather see her dead than with another man.
TEXAS WILDFIRE by Sable Hunter
Honored VFD hero is no angel. In love with his Captain's wife, all hell breaks loose when Titan learns Makenna is abused. The firestorm their love ignites is so intense no one will emerge unscathed.
HOT IN THE SADDLE by Randi Alexander
When a rancher/volunteer firefighter is injured saving the life of a female stockcar racer, she stays to pay her debt of gratitude. Will he regret risking his life when he learns why she came to Texas?
COME HELL OR HIGH WATER by Sabrina York
When offered a second chance to seduce his high school crush, cowboy/fireman Cade Silver cannot resist. Despite her resistance, he is determined to win her, come hell or high water.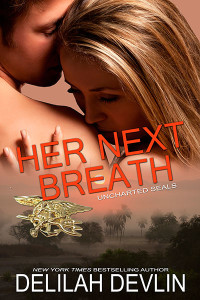 HER NEXT BREATH
Genre: Contemporay
Format: eBook
On Sale: August 17, 2015
Ex-SEAL Jackson Keller's first mission with the Charter Group's spec ops unit is a bust. Instead of capturing a drug lord in his Mexican compound, he finds a beautiful, naked woman. But she may have information they need to nail the narco-terrorist, so he takes her, sealing his fate. She's his to watch, his to "manage" until the op's done.
Suri McAnally's made some mistakes—mainly trusting her college roomie who just so happens to be the son of one of Mexico's most dangerous drug lords. If Jackson can save her, she'll do whatever he says, mirror his moves, and try to keep her insta-lust under control. Her next breath depends on it.
Note: HER NEXT BREATH is also part of the SEALs of Summer 2: A Military Romance superbundle.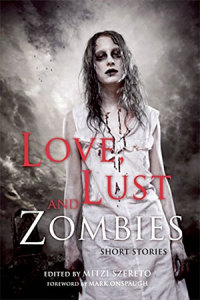 LOVE, LUST AND ZOMBIES: Short Stories
including Delilah's STILL
Cleis Press
ISBN-10: 1627781196
ISBN-13: 9781627781190
Format: Trade Paperback
On Sale: September 15, 2015
Let's face it: zombies are hot, and baby, they're getting hotter. Although not the most traditional of sex symbols, zombies are truly coming into their own, even landing on the silver screen in romantic roles, not to mention ambling and shambling across the pages of novels and television screens. Gone are those one-dimensional scary characters from George Romero's grim and gruesome flick Night of the Living Dead. Zombies now have a lot more to offer to the non-zombie world.
From the bestselling novel Pride and Prejudice and Zombies to the hit TV series The Walking Dead, zombies are taking over as a source of entertainment. So isn't it about time they had their more…err… romantic and sexy sides showcased? Mitzi Szereto wrote the sex back into Pride and Prejudice and her new Love, Lust and Zombies will warm the coldest among us with stories so daring they can even raise the dead!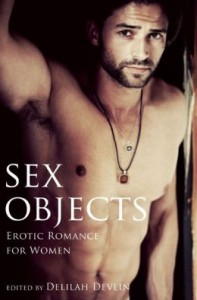 SEX OBJECTS: Erotic Romance for Women
Edited by Delilah Devlin
Tempted Romance
ISBN-10: 1940550165
ISBN-13: 9781940550169
Format: Trade Paperback
On Sale: March 15, 2016
High powered, high ranking…and in high heels.
The term sex object brings to mind a curvaceous starlet on a casting couch or an iconic, bee-stung-lipped beauty being pursued by a powerful, capable man. In Sex Objects, Devlin turns that concept upside down by allowing the woman to objectify a handsome, sensual man, using the concepts of role reversal and power play, but from a female perspective, to create something evocative and fun for the feminine, romance-reader.
A record executive plays hardball with her latest star in "Hush." In "Taste Test," a food critic is seduced with a gastronomic feast by a master chef. "Dark Circus" enchants with a story about a circus owner and a young accountant exploring a D/s relationship. A celebutante and her bodyguard get "Slap Happy." In Devlin's own "Butled," a famous writer succumbs to the tender manipulations of her butler. Lush settings and creative cliche-busting will delight readers eager to embrace the passionate and surprising couplings.
These women are masters of their own domain, in charge and proud—capable of using sex for pleasure's sake – but ultimately succumbing to the pull of desire and love created by the "objects" of their desire.