Coming Soon
Dear Readers: I do my best to keep this list updated with the latest release information. However, if you're looking for a particular story and don't see it, it may still be in the "thinking about it" stage. Check back for updates and subscribe to my newsletter or "like" my Facebook fan page for more news about my works-in-progress. Thanks so much for your interest and support! ~DD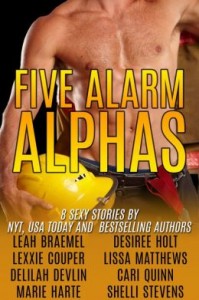 FIVE ALARM ALPHAS
Genre: Contemporary
Format: eBook
On Sale: November 7, 2014
Men Hotter Than Fire!!!
Eight Scorching HOT Brand New Stories
"Wet Down" by Delilah Devlin:
Out with the old, in with the new…
Or so Sherry Thacker thinks. Problem is, her ex is always on her mind—shirtless, sweaty, sooty, way too handsome—and right across the street. When a "Wet Down" ceremony to retire an old fire truck is planned by the city council to raise funds for the firehouse, she has to put aside her hurt and anger and do her job. Blake Thacker wants his wife back—in the house they shared, in their marriage bed. Still confused how Sherry's becoming mayor managed to drive a wedge between them, he'll use whatever means necessary to win her back.
Sex is always best served WET.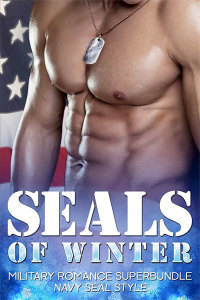 SEALS OF WINTER
Publisher: SOS Ladies
Genre: SEALs; Contemporary
Format: eBook
On Sale: November 18, 2014
Nine brand new Navy SEAL romance heroes from your favorite NYT & USA Today bestselling authors: Cora Seton, Elle Kennedy, Jennifer Lowery, Elle James, Anne Marsh, S. M. Butler, Delilah Devlin, Kimberley Troutte, and Zoe York!
"Rules of Engagement" by Delilah Devlin
Callie Murphy's never been one to moon over a man. Fairytale romances don't exist outside of books and she's seen first-hand how transitory love can be after watching her mother fall in and out of marriage.
Derek Tilden hammered home that truth when he joined the Navy to become a SEAL—he was the boy who couldn't wait to see the world and she was the girl ready to plant deep roots. Now he's back and asking her to marry him one last time…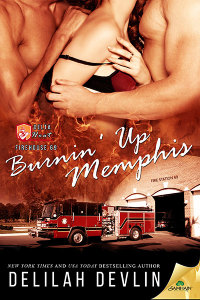 BURNIN' UP MEMPHIS
Publisher: Samhain
Series: Firehouse 69, Book 1
Genre: Contemporary; BDSM
Format: eBook
On Sale: December 9, 2014
She's the one fire he may not be able to control.
When a roof collapse kills his best friend and his girlfriend clears out his apartment and leaves, firefighter John Cooper knows he shouldn't sit alone in his empty apartment. But when he accepts an invitation to Club LaForge, his feet get colder with every step he takes inside.
The sights, sounds and smells of the BDSM club make him sweat, and not because he's turned off. Yet he can't bring himself to admit—to himself, or to his luscious guide, Moira—that this lifestyle might just be what he needs.
An experienced BDSM trainer, Moira senses that Coop is not only a Dom in the making, but exactly what she's been looking for. A man to be her lover and her Dom. The only problem is, Coop isn't looking for anything complicated.
Moira's willing to start slow and easy, but even once there's enough trust to bring Coop into her world—and to her Dom—she's still worried he'll look for the nearest exit.
Warning: Do you smell smoke? Don't worry, it's just a hot and sexy firefighter getting down and dirty. Contains BDSM scenes, ropes, floggers, some spanking, some sharing, and some five-alarm sex.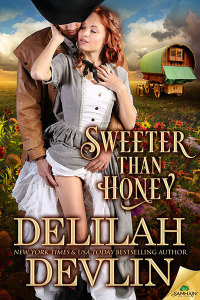 SWEETER THAN HONEY
Publisher: Samhain
Genre: Historical Western
Format: eBook
On Sale: February 2015
1880, West Texas
Honey Cafferty lives a happy but precarious existence as a traveling saleswoman, searching for a sense of belonging. From her colorful wagon she brews decoctions to cure ennui, sleeplessness, hysteria—and after a visit from a mysterious Mexican curandera—she believes she's found the way to improve a man's libido. But how can she package her Elixir of Love without being run out on a rail from the nearest town for selling something that produces such carnal effects?
Sheriff Joe Tanner's protective of his little town and downright hostile toward anyone who takes advantage of the fine folk in One-Mule, Texas. When sees the gypsy wagon roll into town, he's ready to hurry the snake oil salesman on his way, but Honey isn't what he expected. When the men of the town begin to plead exhaustion and place the blame for their state squarely on the pretty little blonde's shoulders, he has to investigate.
The story was previously published as "A Taste of Honey," but has been revised.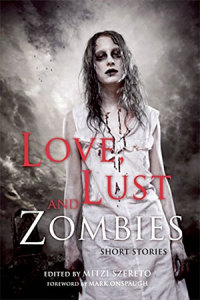 LOVE, LUST AND ZOMBIES: Short Stories
Cleis Press
ISBN-10: 1627781196
ISBN-13: 9781627781190
Format: Trade Paperback
On Sale: July 20, 2015
Let's face it: zombies are hot, and baby, they're getting hotter. Although not the most traditional of sex symbols, zombies are truly coming into their own, even landing on the silver screen in romantic roles, not to mention ambling and shambling across the pages of novels and television screens. Gone are those one-dimensional scary characters from George Romero's grim and gruesome flick Night of the Living Dead. Zombies now have a lot more to offer to the non-zombie world.
From the bestselling novel Pride and Prejudice and Zombies to the hit TV series The Walking Dead, zombies are taking over as a source of entertainment. So isn't it about time they had their more…err… romantic and sexy sides showcased? Mitzi Szereto wrote the sex back into Pride and Prejudice and her new Love, Lust and Zombies will warm the coldest among us with stories so daring they can even raise the dead!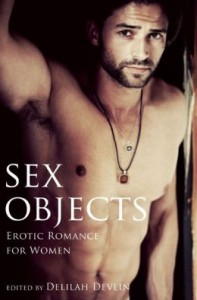 SEX OBJECTS: Erotic Romance for Women
Edited by Delilah Devlin
Tempted Romance
ISBN-10: 1940550165
ISBN-13: 9781940550169
Format: Trade Paperback
On Sale: August 11, 2015
High powered, high ranking…and in high heels.
The term sex object brings to mind a curvaceous starlet on a casting couch or an iconic, bee-stung-lipped beauty being pursued by a powerful, capable man. In Sex Objects, Devlin turns that concept upside down by allowing the woman to objectify a handsome, sensual man, using the concepts of role reversal and power play, but from a female perspective, to create something evocative and fun for the feminine, romance-reader.
A record executive plays hardball with her latest star in "Hush." In "Taste Test," a food critic is seduced with a gastronomic feast by a master chef. "Dark Circus" enchants with a story about a circus owner and a young accountant exploring a D/s relationship. A celebutante and her bodyguard get "Slap Happy." In Devlin's own "Butled," a famous writer succumbs to the tender manipulations of her butler. Lush settings and creative cliche-busting will delight readers eager to embrace the passionate and surprising couplings.
These women are masters of their own domain, in charge and proud—capable of using sex for pleasure's sake – but ultimately succumbing to the pull of desire and love created by the "objects" of their desire.