Coming Soon
Dear Readers: I do my best to keep this list updated with the latest release information. However, if you're looking for a particular story and don't see it, it may still be in the "thinking about it" stage. Check back for updates and subscribe to my newsletter or "like" my Facebook fan page for more news about my works-in-progress. Thanks so much for your interest and support! ~DD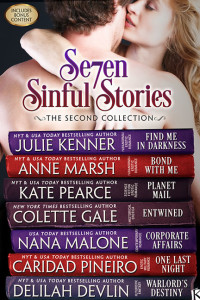 SEVEN SINFUL STORIES
including Delilah's Warlord's Destiny
Genre: Fantasy
On Sale: April 15, 2015
SEVEN SINFUL STORIES
~The Second Collection~
What do you get when you combine Seven New York Times & USA Today bestselling authors into one anthology? Seven sizzling and sinful erotic stories sure to burn up the pages!
~Available for a Limited Time~
WARLORD'S DESTINY by Delilah Devlin
Mora has no illusions she's anything other than the sacrificial lamb to ensure peace between her peace-loving planet and the warlike world that demands a royal union with one of their own. However, when she meets the rugged warlord who will be her husband, she decides in that moment to win his heart—she'll settle for nothing less.
Also included:
FIND ME IN DARKNESS by Julie Kenner
BOND WITH ME by Anne Marsh
PLANET MAIL by Kate Pearce
UNMASQUED by Colette Gale
CORPORATE AFFAIRS by Nana Malone
ONE LAST NIGHT by Caridad Pineiro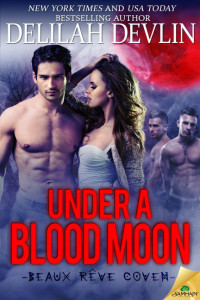 UNDER A BLOOD MOON
Series: Beaux Reve Coven, Book 2
Samhain Publishing
Genre: Paranormal
On Sale: May 12, 2015
Format: Ebook
One demon lights her fire. It'll take three to cool her down.
Now that the battle dust has settled and the witches have won their freedom, Miren Lynch is going stir crazy. Sure, her three demon bodyguards are hot—especially Renner Neilsen—but having them constantly underfoot and ordering her around is about to drive her insane.
One kiss proves the attraction between her and Renner is mutual, but when the sea draugr slips into her dreams, he ignites a fire only three demons can quench.
To Renner, it makes perfect sense for Miren to choose him for her mate. They share the same element—water. They're both wildly attracted. But once he sneaks into her dream to seduce her, she doesn't trust his promise he won't abuse the power a witch brings to a mate.
His solution? Show her he will provide everything she needs for her wellbeing—from mind-bending pleasure to her treasured freedom—even if it means sharing her with a pair of handsome and lusty mermen twins.
Warning: Contains explicit sexual escapades between three handsome specimens of juicy otherworld masculinity and a witch who knows that even the most hardass demon hides a gooey marshmallow inside. Happy tasting!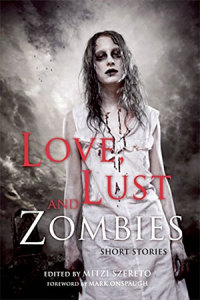 LOVE, LUST AND ZOMBIES: Short Stories
including Delilah's Still
Cleis Press
ISBN-10: 1627781196
ISBN-13: 9781627781190
Format: Trade Paperback
On Sale: September 15, 2015
Let's face it: zombies are hot, and baby, they're getting hotter. Although not the most traditional of sex symbols, zombies are truly coming into their own, even landing on the silver screen in romantic roles, not to mention ambling and shambling across the pages of novels and television screens. Gone are those one-dimensional scary characters from George Romero's grim and gruesome flick Night of the Living Dead. Zombies now have a lot more to offer to the non-zombie world.
From the bestselling novel Pride and Prejudice and Zombies to the hit TV series The Walking Dead, zombies are taking over as a source of entertainment. So isn't it about time they had their more…err… romantic and sexy sides showcased? Mitzi Szereto wrote the sex back into Pride and Prejudice and her new Love, Lust and Zombies will warm the coldest among us with stories so daring they can even raise the dead!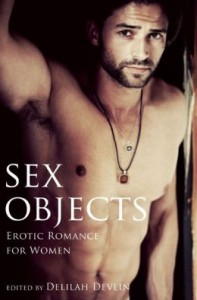 SEX OBJECTS: Erotic Romance for Women
Edited by Delilah Devlin
Tempted Romance
ISBN-10: 1940550165
ISBN-13: 9781940550169
Format: Trade Paperback
On Sale: March 15, 2016
High powered, high ranking…and in high heels.
The term sex object brings to mind a curvaceous starlet on a casting couch or an iconic, bee-stung-lipped beauty being pursued by a powerful, capable man. In Sex Objects, Devlin turns that concept upside down by allowing the woman to objectify a handsome, sensual man, using the concepts of role reversal and power play, but from a female perspective, to create something evocative and fun for the feminine, romance-reader.
A record executive plays hardball with her latest star in "Hush." In "Taste Test," a food critic is seduced with a gastronomic feast by a master chef. "Dark Circus" enchants with a story about a circus owner and a young accountant exploring a D/s relationship. A celebutante and her bodyguard get "Slap Happy." In Devlin's own "Butled," a famous writer succumbs to the tender manipulations of her butler. Lush settings and creative cliche-busting will delight readers eager to embrace the passionate and surprising couplings.
These women are masters of their own domain, in charge and proud—capable of using sex for pleasure's sake – but ultimately succumbing to the pull of desire and love created by the "objects" of their desire.