Flashpoint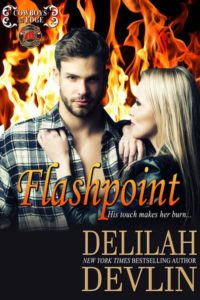 Cowboys on the Edge, Book 4
Genre: Contemporary, M/F/M
Format: Ebook
On Sale: October 20, 2016
His touch makes her burn…
Troy Barlow wasn't looking for love when he competed in the Texas Tough Firefighting Competition, but one feisty little blonde caught his attention and wouldn't let go. The more she tried to deflect him, the more determined he became to make an impression, until he did something she couldn't possibly ignore.
The last thing Diana Boyle expected to feel was attraction for another firefighter. After her husband's death, she'd been adamant — never another firefighter. But Troy was impossible to escape. When he wore down her resolve, she thought a one-night-stand might purge him from her system once and for all, but his powerful appeal and uninhibited lust and zest for life were addictive. When a harrowing fire threatens their newfound happiness, Diana has to face her worst fears.
Excerpt
Note for Readers: You must be of legal age in your country of origin to read this excerpt.