Stepbrothers Stepping Out: With His SEAL Team, Part 2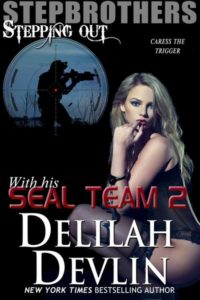 Stepbrothers Stepping Out, Book 10
Genre: Contemporary, M/F/M
Format: Ebook
On Sale: November 6, 2016
An Amazon #1 bestselling short story!
Sharing my life with three virile Navy SEALs would be exhausting for most girls. But I'm not most girls. They're high-drive, high T guys, competitive as hell, and I'm the one who reaps the rewards when they're ready to blow off a little steam. I'm Sara. I belong to Hunter. Our relationship is a little complicated…
Note: This original 6700-word short story may be short in length, but it's not short in passion!
Excerpt
Note for Readers: You must be of legal age in your country of origin to read this excerpt.