Thursday, April 22nd, 2010
The winner will be announced Saturday. So, be sure to cast your vote,
then post a comment so I know who voted!
My horoscope today reads: Start something new — or do something over — this morning, and it should go quite well for you. Keep pushing through the afternoon, as you want to make things bigger, bolder and better then! Which kinda works because today I'm supposed to be revising a proposal. Looks hopeful, huh? Did I mention that I finished Lone Star Lover-3 yesterday? Yeah, and shipped it. Hope LF likes it and that it will be out quickly. Thanks, Masha, for reading it over before it went!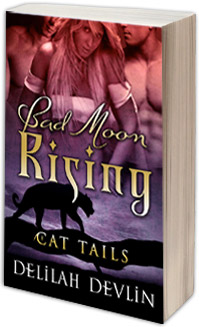 First, thanks to everyone who gave me suggestions about what should happen next in Cat Tails: Bad Moon Rising. If you haven't had a chance to read the last installment, you need to do it before you vote.
Everyone who votes (and leaves a comment so I know who voted) will be entered to win a $10.00 Amazon.com eGift certificate. So, you get to choose what happens next and you get a chance to win something. There is no down side here! You can make more than one selection.
Sorry, there are no polls available at the moment.