Friday, October 15th, 2010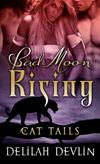 Well, I finally wrapped up the next installment of Cat Tails: Bad Moon Rising. It's making it's way through my critique group this weekend. Once they redline the crap out of it (I slammed it, so I'm sure I have tons of typos), I'll ship it to my webmistress for her to format it and put a link to it on my Free Story page. So, if you haven't already read chapters one through three, you might want to head over there now to catch up! Chapter four is sexy and all about DiDi and Mason, so those of you who were a little worried that Bobby S might turn her head…well, not this time around.
Did I mention how hard it is to write a serialized story? Especially an erotic one? I have to keep my audience in mind, which means I have to figure out ways for DiDi to find herself without her clothes with some hot guy every single chapter. And except for chapter one which introduced the characters, I've managed it. I'll be looking for your help to plot the next installment, like always (this is your story!), so keep the need for it to be as erotic as hell in mind when I put out the call for what happens next. If you're new to how we've been working on this together, you might want to check out what the readers have helped me decide so far:
Cat Tails Plotting Posts
Here's an unedited snippet. So forgive any typos, choppiness, whatever. Enjoy!
*~*~*~*~*~*~*~*~*~*~*~*
"DiDi, do you want me to kiss you?"
She rolled her eyes. "Please, or hell, I'll just ramble on and reveal some really embarrassing things because I was just working my way up to—"
His mouth landed on hers.
She hadn't known it, but she'd been as tight as a bow until he'd taken the initiative. Immediately, her body went boneless, relaxing as his arms surrounded her, taking responsibility for holding her upright.
His lips opened. She sighed into his mouth, then thrust her tongue inside, licking the edges of his teeth, stroking over his tongue, while his mouth suctioned, pulling her arousal into near frenzy.
She broke the kiss and rested her forehead against his. "You won't make me wait, will you?"
"Do you know any speed but fast?"
With a choked laugh, she shook her head. "It's your own damn fault."
Chuckling, he laid her on the blanket. Then resting on one elbow beside her, he slid one thigh sliding over both of hers. His hand dove beneath her blouse, sliding over her ribs. Fingers tucked beneath her bra to caress her breast, pinching the tip and pulling. She felt the tug all the way to her pussy.
"Take them off," she rasped. "My clothes. Too many."
His mouth glided over her cheek, and he nuzzled into her hair. "Do you want to move inside the house?"
"Who's gonna see? The cats?"
The sound he made, a near perfect, animalistic growl, should have alarmed her, but the tension in his shoulders, and the thickness of his sex rubbing against her hip, sent her own arousal soaring. "Now," she said. "Fuck me right here."
Mason pushed up quickly beside her. She sat and thrust up her arms for him to tug off her shirt. Then she reached behind her for the snap of her bra, watching as his fingers flew down the row of buttons on his own shirt. He tossed it to the side, rucked up his white tee, then reached for his belt.
"Not fast enough," she breathed, eyeing his chest. She pulled off her shoes, opened her pants and wriggled on the hard wood, shoving them off her hips.
His pants were already shed, and he grabbed the ends of hers and ripped them the rest of the way off.
Panting hard, her belly tight, her pussy wet and pulsing, she opened her legs and reached for him.
He knelt between her legs, slipped his hands beneath her buttocks and tilted her to receive his first, forceful thrust.
They both groaned as he entered her. "Fuck, that's good." "Move, just move."
Their voices blended. Soft, short murmurs. More praise than instruction. Already, they knew what the other liked.