Monday, June 6th, 2011
I'm back from Ohio. Lori Foster's was a great event. One I'd recommend to an author or a reader. It's very laid back. I was bummed that I managed to forget to submit a list of books for the booksigning, but it worked out. I made it around the signing tables begging for swag. I have a ton of books, t-shirts, and signed bookmarks, trading cards, excerpt booklets, etc., to give away. The authors were very generous. Let me get unpacked and I'll get started on that. For sure I don't want it hanging around my office!
I'd love to send kisses—muah, muah, muah—to the ladies who chased me down at the booksigning with books they'd brought from home for me to sign. I was very thrilled to see so many!
I will post pictures as soon as my sister, Elle James, sends them to me. Yeah, I took a camera, but did I remember to take it out of my suitcase?!
This week, it's nose to the grindstone. Sis and I managed a lot of brainstorming this weekend. I feel like the well (from whence all inspiration cometh) is refreshed. And I mapped out the external plot of the next Viking story! That one had been nagging me because I didn't know how I could equal Enslaved by a Viking.
This week, Juniper Bell aand Berengaria Brown will be guesting with me. And I think that's about it. Thanks to the ladies who have posted reviews for the books they've read. It's greatly appreciated!
* * * * *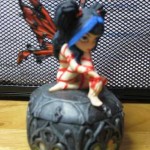 The Promo Ho and Red Ribbon Fairy contests continue! See details here! ~DD