Tuesday, July 12th, 2011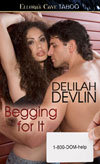 I've gotten a string of fantastic reviews for Begging For It. I want to share them in case you've been on the fence about the story or didn't know that it's out there. Here are some review snippets, and following them is an excerpt. A dirty one, so be sure to be alone when read it! Cross gives over control to TJ—but that doesn't last long!
"This was the most gripping, emotionally charged sexy foray into BDSM (heavy on the S&M) I've ever read. If you are a reader who thinks there could never be pain with pleasure, then this story will change your mind…in the end, you'll be so gripped by the brilliance of Ms. Devlin's storytelling abilities, that the final pages will twist your guts in knots. I breathed with both Cross and TJ. I ached with them. And when it was over, I couldn't stop thinking about them." A "10" for Story, Seriously Reviewed
"…I absolutely loved this book… With these two dynamic characters, the emotional pull of this story was outstanding… Emotions ran the gamut and reached out to draw you in." 5 Stars and Top Pick!, Night Owl Reviews
"…This story is an emotional rollercoaster that will make you laugh, cry, and overheat… Devlin weaves an enthralling tale… It's a novella that's impossible to put down, a definite gem worth reading again and again." 5 Hearts, The Romance Studio
"…Delilah Devlin is at her finest with BEGGING FOR IT!… It is heartbreaking but real. Yes this is a very hot erotic novella but the story really spoke to me… BEGGING FOR IT is outrageous and perfectly delicious!" Joyfully Reviewed
What the story's about…

She needs punishment…before she deserves pleasure.

Tragedy scarred TJ Lipton. Now, the only way she can find pleasure is when its delivered with a heavy-handed dose of S&M. But finding a lover who can give her what she needs proves an elusive quest—until she finds the sex club Unfettered and a Dom named Cross McNally.

Cross understands all too well what drives TJ. He takes command of her body to give her everything she needs—restraint, the stinging kiss of a flogger, the thrill of a three-way—a sexual adventure that pulls her beyond her painful past and has her begging for more of his tender brand of domination.
She released him and sat back, wiping a hand across her mouth as she looked up.
His eyes were narrowed slits. Skin stretched taut around his square jaw.
TJ backed away and stood, quickly stripping off her clothes until she was nude as well and panting with excitement.
"What do you want, baby?" he asked with another slow up and down glide.
Read the rest of this entry »