Friday, February 1st, 2013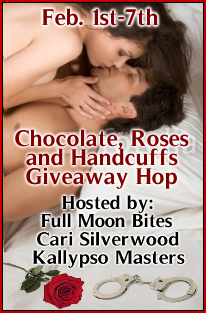 It's almost that time of the year again for roses, chocolate love…and handcuffs!
To celebrate, Cari Silverwood, Kallypso Masters and Full Moon Bites have come together for a kinky giveaway hop! They invited a slew of authors and bloggers to join them! Read on below for the lovely intro (written by the wonderful Cari!)
When your man tells you he loves you with a gift of chocolates, roses and handcuffs, you know he's no ordinary lover. What kink hides in your closet? Sometimes we don't want a man who showers us with flower petals and kisses. Sometimes we want a man who will take charge and text us from work with a message such as this: Wait for me naked and kneeling in the bedroom. If this Valentines Day you get handcuffs from your partner, what message would you like to see on the gift tag?
Enter a comment on this post, and you'll be entered to win a $25.00 gift certificate from Amazon.com to spend however you please on whatever naughty thing you want! Then take a tour to each of the websites listed below. Don't feel overwhelmed by how many people are involved, you have until February 7th to enter!