Monday, March 14th, 2011
I have pics from the booksigning in Shreveport, but I'm lazy today. It was only a three-hour drive back, but I'm still tired from all the schmoozing. We recluses drain like a battery when we're around so many people. Loved it though. The NOLA folks fed us well.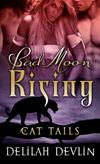 Click on the cover and find chapter five of the next installment of Bad Moon Rising! It's interesting how this serialized story is working out. I try every time to make sure the chapter will hold your interest (meaning I have to cram it with sex for all you sluts!), but also move the plot forward. Hope you enjoy! Those of you who have been participating in helping plot this one will note I didn't get our girl, DiDi, to the island yet. Sorry about that, but I couldn't seem to get her out of bed with Mason…
Leave a comment and let me know how you like the story so far!