Saturday, November 10th, 2012
NaNo Day 10:
SS-2—0 words (vacation)
Yes, I'm still out-of-pocket. Happily visiting with family somewhere in Virginia, just outside the capitol. Since I didn't have any guests lined up for the weekend, I'm going to take a little time to seduce you into loving my Delta Heat series. The third book comes out on Tuesday, A Perfect Trifecta. Today, I'm going to give you a glimpse into the first book, Five Ways 'Til Sunday. And since you know I love giveaways, post a comment today, and you'll win a copy of the book! If you already have this one, take a look at my Samhain backlist. There has to be something there to tempt you.
I know some of you love series because you love those glimpses of characters you meet along the way. Marti and Jackson are featured in every story. You meet them for the first time here…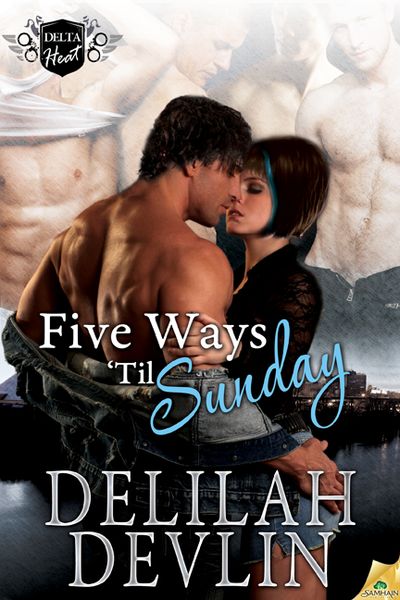 "FIVE WAYS 'TIL SUNDAY was an awesome read…" ~4.5 Stars, Night Owl Reviews 

"Delightfully quick read, you are so consumed in the story it is difficult to put it down…" ~Sensual Reads

Sometimes a man's just gotta call for backup…

Marti Kowalski is all wrong for Officer Jackson Teague—he just won't listen to reason. She didn't finish high school, runs a bar. Has a tattoo and a blue streak in her hair. Yet he still wants to marry her? She can't say she's not tempted, but she's got a bucket list to complete before she ties the knot.

Not just any bucket—more like a fifty-five-gallon drum of sexual wishes so explicit, there's no way one man, even Jackson, can fulfill them all.

When Marti turns him down again, Jackson doesn't give up, he insists on knowing why. That's when she shows him her list. He takes it, thinks about it—and calls on the only men he can trust: four buddies from his academy graduating class.

Between the five of them, he's sure they can come up with a plan to check off every item on her list in one wild, wicked weekend. That is, if she has the nerve to follow through—and if he can bear to share her.

Warning: Five men on a mission to break down the resistance of one determined woman. Author suggest readers keep their significant others on speed dial. Not responsible for accidental 911 calls.
Marti Kowalski waved a hand blindly behind her at her desk, swiping the inventory sheets she'd slaved over for two days, and her telephone, to the floor. She didn't care about the mess—or by the crunch—the loss of her phone. Right this moment, she had Jackson where she wanted him—too far gone with want to worry what damage he might cause.His body was hard; his expression carved to a lustful edge, which promised the kind of sexy interlude she preferred—something spontaneous and surprising.Even after all the months they'd been seeing each other, he managed to surprise her. Like now. He'd pulled her from the door of the ladies' restroom and goose-stepped her with her arm bent behind her back to the manager's office, growling menacingly into her ear about the wicked things he'd do to her.
Ma'am, keep quiet and I won't hurt you.
She'd shivered at the menace in his voice, but he'd rubbed her hip gently to remind her this was just a game.
She had to hand it to him. He knew what made her hot.
Jackson bent her over her desk and shoved up her blouse. His head ducked to pluck a nipple with his lips, and then he bit it.
"I wasn't expecting you," she gasped, her fingers digging into the rigid Kevlar armor he wore beneath his dark shirt. "You're on duty. Thought you didn't cross that line when you're wearing the uniform."
His head reared back. His dark eyes flashed. "Shut up, ma'am. You draw any attention, and I might have to get rough." Read the rest of this entry »