Tuesday, December 6th, 2016
I don't know if you know this, I have said it before, but before I became a full-time author, I was a professional project planner (PMP certified), first in the Army then in the IT field. So, planning isn't just something I think about now and then. I breathe it. Love it. Revel in all the bright possibilities of a shiny future. To those of you who aren't planners/listers, I know you think the rest of us are just a bit touched.
If, however, you're like me, I'd love to hear how you get ready for those New Year's resolutions.
For me, the process begins with something airy-fairy—a mind map. I love putting them together so much that I lead an annual workshop where everyone who participates has a chance to get their next year's writing goals drawn up. Here's my 2017 writing map. It's just a starting point–the big picture goals I want to consider for the new year. I do one of these for my writing life and one for my "real" life. This gets placed beneath a clear mat on my desk to remind me throughout the year of what I dreamed I would tackle during the year.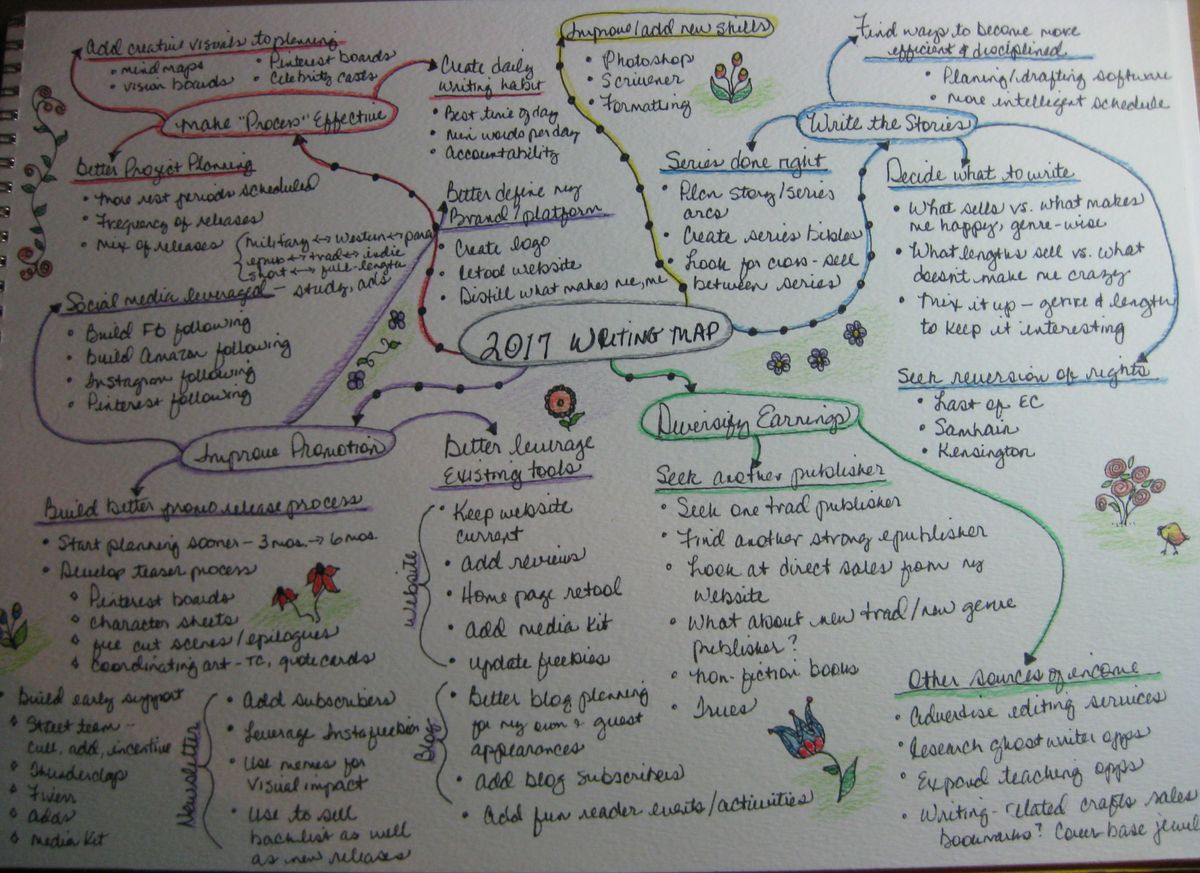 This week, I'm leading a FREE online workshop, entitled Write 50 Books a Year, for writers who want to develop a more concrete plan for their 2017 work schedule. I teach it because it invigorates my own planning efforts—and it forces me to knuckle down and actually get the work done. Before January even rolls around, I'll know exactly what I intend to accomplish.
If you're interested in learning more about mind maps, check out my Mind Maps & Vision Boards Pinterest page.
For 2017, I'm hoping to get ahead of the work, although I think I haven't evolved much from my Army days. I still work best under pressure. Deadlines are a huge incentive for me, but self-imposed deadlines aren't all that exciting. But I really, really want to learn to work more methodically. I think I might live longer.
So, tell me something about how you approach the new year…